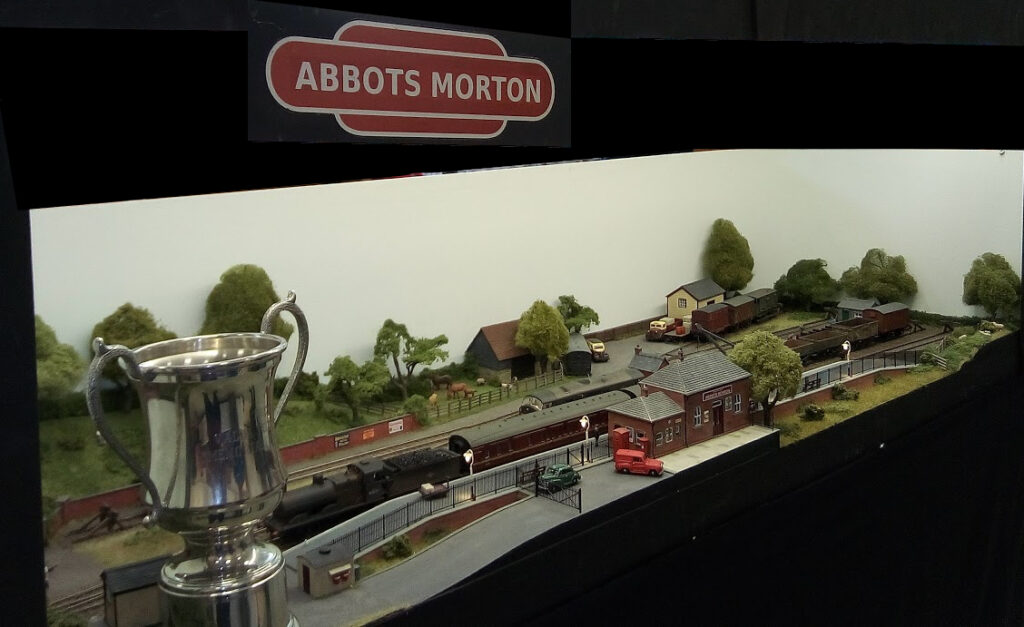 Abbots Morton is situated on one of the proposed lines from Broom Junction to Worcester. It has been assumed that the line was started but only reached Abbots Morton (that being the reason the model is a terminus) before the funds ran out, as was quite usual for railways of the period.
The line through Broom was operated by the MR, LMS, London Midland Region of BR until finally being taken over by the Western Region. The majority of stock that operate on the layout are types that were based at Saltly, Gloucester Barnwood or Bournville, although locos from other locations may also appear.
The layout was designed from the outset to be DCC (Digital Command Control) and uses an NCE Power Cab, loco decoders are from Bachmann, Hattons, and DCC Concepts.
The layout trackwork is SMP 'OO' code 75 Bullhead, points being SMP plastic kits, these being operated by Servos via MERG control units. The only signal is from the Dapol range. Buildings etc. come from all the usual sources, Hornby Skaledale, Wills and Ratio kits, plus a plethora of small items from various sources, all which go to make up the overall scene.
One novel feature is the uncoupling of the Sprat & Winkle couplings, these being fitted to all stock, this is accomplished using pivoted rare earth magnets raised and lowered, again by servos.
The layout is still being detailed and this will be taking place over the coming months.
Overall Size: 8ft x 2ft plus an operating space at the rear
Owned and operated by: Paul Fogg, member of Sodbury Vale MRC
Contact details: email paul.fogg67@gmail.com